For the first time as a retreat:
Understanding and experiencing the Bhagavad Gita
Silent retreat at Rosenwaldhof
and also externally online from 08 - 14.08.2022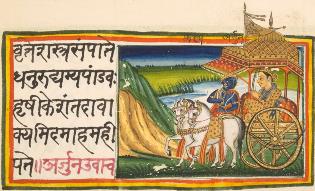 https://upload.wikimedia.org/wikipedia/commons/a/a5/BhagavadGita-19th-century-Illustrated-Sanskrit-Chapter_1.20.21.jpg
The Bhagavad Gita, "the song of the sublime", is one of the most important scriptures for understanding the classical Indian concepts that also underlie yoga. It is considered the quintessence of the Vedas, bringing together and transcending many schools of thought. By many Indians, the 'Gita' is revered as a sacred scripture whose reflection and recitation provides deep insights, brings us closer to the meaning of life and promotes the expansion of our consciousness.
Here are English language titles, recommended by Dr. Shrikrishna and available on the internet:
"The Teaching of the Bhagvad Gita" by Swami Dayananda
"The Philosophy of the Bhagvad Gita" by Swami Krishnanda
Dr. Shrikrishna uniquely combines profound philosophy with inner experience, the reflection of wisdom in silence with everyday experience. The focus of the theoretical sections will be primarily on psychological connections and on transcending the limits of everyday consciousness.
The retreat will include extended practice sections for pranayama, meditation and mantra recitation and will take place in partial silence. Complete withdrawal from everyday life and the mass media is highly recommended for this period in order to be able to reflect and experience deeply.
Even under online conditions, the stay in our retreat centre has proven to be very successful. We have upgraded the Rosenwaldhof to a high standard of technology, we use this technology very carefully so that you don't have to worry about anything and we look after you with delicious organic vegetarian food. Silence is also usually much easier and more natural with us on site and in the very beautiful nature of the surroundings.
Start:
08.08.2022, 3:15 p.m.
Ende:
14.08.2022, 1:00 p.m.
Timetable:
Click here
Location:
Rosenwaldhof (Bergstraße 2 - 14550 Groß Kreutz (Havel) - OT Götzer Berge)
and externally online by stream via Zoom
Arrival:
from 12:30 p.m., pick-up from Götz station possible for a fee at 12:30 p.m. and 1:30 p.m.
Fee:
590,- Euro (reduction on request)
plus costs for overnight stay and board at Rosenwaldhof
Language:
English (the question and answer session will be translated into German on request)
The audio recordings are made available to the course participants free of charge.
Unfortunately, Dr. Shrikrishna is not able to be in Germany for this seminar. Therefore, everything will be transmitted live via zoom. However, in order to create a retreat atmosphere, the seminar will take place at the Rosenwaldhof. There is a very quiet projector with a large screen and the technology will be carefully looked after throughout.
For more information on the nature of a seminar, see General information.
Information about the house under "locations" and on the website of the Rosenwaldhof: www.rosenwaldhof.de.
Registration and contact: click here