Seminar series: Understanding and experiencing the Upanishads
Kaivalya Upanishad
Silent Retreat at Rosenwaldhof from 25 - 31 July 2022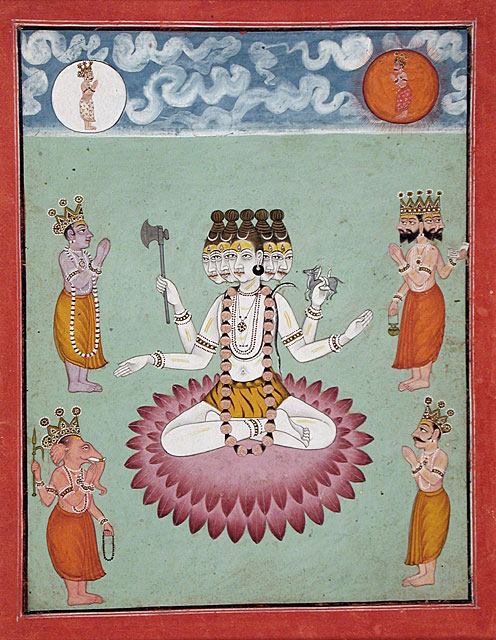 https://upload.wikimedia.org/wikipedia/commons/9/99/Five_headed_Shiva.jpg
This Upanishad, also known as Kaivalyopanishad, is the twelfth of the 108 Upanishads of the Muktika canon. It belongs to the Shaiva tradition and forms part of the Atharva Veda.
Shrikrishna succeeds brilliantly in bringing us closer to the timeless essence of scriptures that at first seem strange. In each case, he uniquely combines profound philosophy with inner experience, the reflection of wisdom in silence with everyday experiences.
The retreat includes extended practice sections for pranayama, meditation and mantra recitation and takes place in partial silence.
Here are links, recommended by Dr. Shrikrishna:
Start:
25.07.2022, 3:15 p.m.
Ende:
31.07.2022, 1:00 p.m.
Timetable:
Click here
Location:
Rosenwaldhof (Bergstraße 2 - 14550 Groß Kreutz (Havel) - OT Götzer Berge)
and externally online by stream via Zoom
Arrival:
from 1 p.m., pick-up from Götz station possible for a fee at 1:30 p.m. and 2:30 p.m.
Fee:
590,- Euro (reduction on request)
plus costs for overnight stay and board at Rosenwaldhof
Language:
English with German translation
The audio recordings are made available to the course participants free of charge.
Unfortunately, Dr. Shrikrishna is not able to be in Germany for this seminar. Therefore, everything will be transmitted live via zoom. However, in order to create a retreat atmosphere, the seminar will take place at the Rosenwaldhof. There is a very quiet projector with a large screen and the technology will be carefully looked after throughout.
For more information on the nature of a seminar, see General information.
Information about the house under "locations" and on the website of the Rosenwaldhof: www.rosenwaldhof.de.
Registration and contact: click here